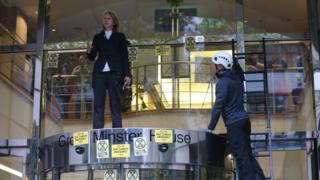 Extinction Rebellion activists are continuing protests despite a London-wide ban by police.
The group says it will challenge the ban, saying it believes it is unlawful. Lawyers and politicians have also criticised the move.
Meanwhile climate change protesters targeted the Department for Transport and MI5 on Tuesday morning.
A government spokeswoman said protests "should not disrupt people's day-to-day lives".
Extinction Rebellion's co-founder, Gail Bradbrook, was arrested after climbing on to the entrance of the Department for Transport on Tuesday morning. Police also cleared further protesters from outside the building.
Activists have also been arrested on Millbank outside MI5's headquarters, where a small group had gathered. Two men briefly sat in the middle of the road before being moved by officers.
On Monday evening, the Metropolitan Police began clearing protesters from Trafalgar Square following the announcement of a ban on the protests.
Under Section 14 of the Public Order Act, the force had imposed conditions requiring activists to stop their protests in central London by 21:00 BST on 14 October or risk arrest.
The Metropolitan Police said that the ban was imposed after "continued breaches" of a condition limiting the demonstration to Trafalgar Square.
Speaking to the Victoria Derbyshire programme, Extinction Rebellion campaigner and former Met Police officer Paul Stephens said: "Police are being really sloppy with the law, and it won't stand up in court."
He added that "there will be a judicial review".
Mayor of London Sadiq Khan has said he is "seeking further information" about the decision to impose the ban and why it was necessary.
"I believe the right to peaceful and lawful protest must always be upheld," he said.
A spokeswoman for the government said that the UK "is already taking world-leading action to combat climate change".
The statement added: "While we share people's concerns about global warming, and respect the right to peaceful protest, it should not disrupt people's day-to-day lives."
'Overreach of powers'
Meanwhile, lawyers have questioned whether the ban by police was legal.
Anti-Brexit barrister Jo Maugham QC said the move was "a huge overreach" of police powers, while human rights lawyer Adam Wagner described it as "draconian and extremely heavy-handed".
Mr Wagner added in a tweet: ""We have a right to free speech under article 10 and to free assembly under article 11 of the (annex to the) Human Rights Act. These can only be interfered with if the interference is lawful and proportionate. I think the police may have gone too far here."
Shadow policing and crime minister Louise Haigh said it was "a grotesque overreaction and extremely worrying attack on basic civil liberties."
Allan Hogarth, of Amnesty International, issued a statement saying the ban was "an unlawful restriction on the rights to freedom of expression and peaceful assembly".
A number of demonstrations have been staged across the capital by Extinction Rebellion, which is calling on the government to do more to tackle climate change.
The protests were due to last two weeks and have seen more than 1,400 arrests.
The Met said there had been 1,457 arrests by 08:45 BST on Tuesday, in connection with the nine days of Extinction Rebellion protests in London.
Last week, the Home Office confirmed to BBC News that it was reviewing police powers around protests in response to recent demonstrations.